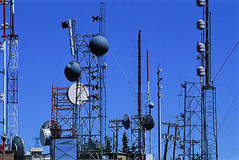 Head of International Specialized Organization Bureau announced Iran and Russia signed frequency coordination agreement on VHF and UHF frequency bands.
"To facilitate using radio stations in UFH and VHF bands, registering them in the International Telecommunications Union (ITU) and preventing frequency interference, the agreement was signed in the second session on frequency coordination in Russia," he said.
The bands cover audio and video areas, he said, adding Iran and Russia have both joined GE-06 digital broadcasting plan for a one radio region plus Iran.
Based on the GE-06, signed by 120 Common Wealth Countries as well as Arab, European and African states in 2006, the members obliged to change analogue broadcasting to digital by 2015.