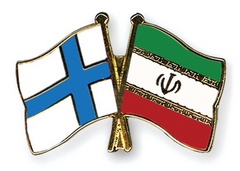 Finland has expressed its readiness for funding and accomplishing railroad and transportation projects in Iran, said an Iranian official in charge of development of railroad, port and airports Massoud Nasr-Azadani.
"Finish representatives of the companies taking part in the session have announced that they are ready to design and accomplish the projects and noted that the Chinese Development Bank will also take part in financing the projects," Azadani told ISNA after a meeting with a delegation of some prominent Finish transportation and development of transportation infrastructure companies.
He further said that the delegation has expressed its willingness for investment on the projects in case interests are and all the expenses are paid back in the time frame of 5-25 years from the Iranian government.
The Iranian official also said that the Finish companies enjoying considerable experiences in designing and building railroad and express railways in different countries including China are keen to make investment on Iranian railroad projects.
Early in July, Iranian President Hassan Rouhani underlined the need for the expansion of bilateral ties between Iran and Finland.
Rouhani made the call in a message to Finnish President Sauli Vainamo Niinisto.
The Iranian president called for strengthening regional cooperation between Iran and Finland.